Keeping an Open Door
---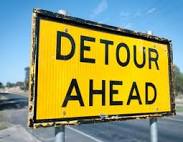 Posted by Jenny Waltman.
Most days, several of the staff stop by my office door and have something to discuss about a current project, a folder outlining the latest sale, a prayer request, a funny joke, or a God story of what He has done in their own life or in the life of someone they love. Sometimes I look at pictures of their kids or we pray about some obstacle that in that moment seems insurmountable.
In the midst of interruptions, I remember an old boss of mine, a man I have always loved and respected. He taught me a valuable lesson… Every work day exists for the interruption. In the end, all that will have really mattered, will be the interruptions. In those moments, we really grow. Interruptions challenge us, stretch us, make us laugh and unite us. Interruptions expose us, catch us off guard and wreck our plans.
We will not look fondly back on hours of number crunching, reports, payroll, posting bill payments or sorting documents to be filed. What we will remember were the moments, the relationships, the God stories, the hurdles we all made it across together.
Tomorrow, my door will be open and I will be working, but my peripheral vision will be watching. I will be ready, for the next interruption.
1 Corinthians 10:24 "Let no one seek his own good, but the good of his neighbor."